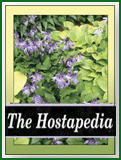 This H. montana type plant is a non-registered hosta from Japan. It has green foliage that has chartreuse colored streaked variegation.
According to The Hostapedia by Mark Zilis (2009), "The Wade and Gatton plant has sported to all-green foliage. It can also be found in a few collections in Japan."
A cultivar by this name was listed on the Hosta Library.
Mikiko Lockwood in an article on The Hosta Library titled, A Little About Japanese Hosta Terms defines the term -gawa or -kawa as river.