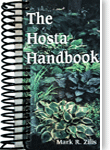 In 1986, The American Hosta Society registered this cultivar on behalf of the originator, Frances Williams. It is a seedling of H. 'Decorata' × a hybrid of H. sieboldii and, according to The Hosta Handbook by Mark Zilis (2000), is named for Frances' great, great, grandmother. The medium size (15 inches high) rhizomatous, plant has deep purple, bell-shaped flowers in August. Its leaves are slightly wavy and of average substance.
The Hostapedia by Mark Zilis (2009) says, "For many years, this was my favorite purple-flowering hosta. Its rhizomatous nature lends itself to ground cover usage with the added benefit of a great show of late season flowers."
Note: This hosta was named for Frances Williams' grandmother.