The Genus HOSTA by W. George Schmid (1991), lists this as a hybrid of H. sieboldii spathulata from Eunice V. Fisher of Wisconsin introduced in 1963. It was included on an Alex Summers' list as No. 101. It is a small size mound with narrow green leaves. The seed pods have dark purple dots and appear to be black.
Another source says it was originated by someone known only as "Lewis".
According to The Hostapedia by Mark Zilis (2009), "...may no longer exist."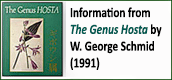 "Plant's seed pods are dotted with dark purple, appearing black. Otherwise, like H. sieboldii spathulata."