Introduced by Richard Taylor of Indiana, this cultivar of unidentified parentage was registered on his behalf by Kevin Walek (Hosta Registrar) in 2009. It forms a medium size (11 inches high by 32 inches wide) mound with slightly wavy, slightly rippled, lanceolate leaves of thin substance. Pale lavender flowers bloom from mid-July into August.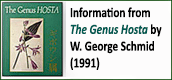 "Plant has long linear green leaves with even, whitish yellow margins. The arching leaves form a regular mound."
Similar cultivars include H. 'Koriyama' and H. 'Satin Bloomers'.