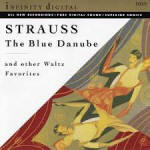 Eric Smith introduced this second generation Tardiana-type seedling in the 1960s. It was registered by the British Hosta and Hemerocallis Society (BHHS) on behalf of Smith in 1988. The plant forms a large size hosta about 18 inches high by about 4 feet wide. The leaves have thick substance and are slug resistant. Its pale lavender flowers bloom in late July.
According to The Hostapedia by Mark Zilis (2009), "...rich blue foliage and outstanding substance. Its only negative is a fairly slow growth rate, but that should not deter anyone from growing this great hosta."
Similar cultivars include H. 'Brother Ronald', H. 'Dimple', H. 'Hadspen Blue' and H. 'Tokudama'.

There is also a German cultivar named: H. 'Donauwalzer' which translates into Blue Danube Waltz