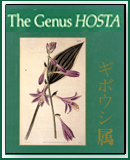 This plant of unidentified background was registered by Peter Ruh of Ohio in 2002. It is a medium size, blue, Tardiana-type of hosta.
According to The Hostapedia by Mark Zilis (2009), "Unfortunately, I've seen two distinctly different plants with this name. The registered plant (less common) is an attractive blue-leaved Tardiana of medium size. The more common form...is a blue-leaved H. 'Elegans' type.. .The two types cannot be confused."
In The Genus HOSTA by W. George Schmid (1991) . this cultivar is listed with no additional information except that it was from Van Bourgondien Nursery of The Netherlands and was the same as H. 'Sieboldiana'.