Hosta sieboldiana 'Elegans' is THE classic giant size blue hosta. It was originally described as a cross between 'Fortunei' × Hosta sieboldiana but, According to The Hostapedia by Mark Zilis (2009), it is "...most likely a cross of H. sieboldiana × 'Tokudama'." It was first introduced for sale in Germany by Georg Arends in 1905 and The American Hosta Society registered the cultivar on his behalf in 1987 and again in 2002.
'Elegans' forms a giant size (28 inches high by 61 inches wide) mound of heavily corrugated, slightly wavy foliage with a deeply lobed base and a distinct tip. It produces funnel shaped, near white flowers in dense clusters from mid-June into July.
According to The Hostapedia by Mark Zilis (2009), "When Georg Arends introduced his Funkia fortunei var. robusta, I'm sure that he did not realize the impact that this hybrid would eventually have. In essence, H. sieboldiana 'Elegans' introduced thick substance and blue-green foliage color to the hosta world. Almost any hosta with these characteristics hearkens back to H. sieboldiana 'Elegans'.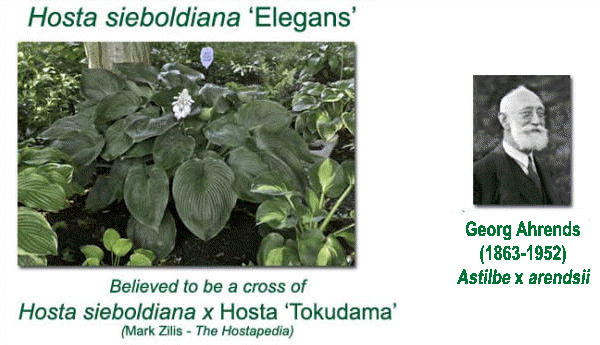 H. 'Elegans' also has the distinction of being a cultivar, but not a clone. This is rare among hosta cultivars. The reason for this is its sluggish growth rate, making propagation by division a slow task...nurserymen eager to increase their stocks...germinated copious numbers of seeds. Thus, the plants sold as H. sieboldiana 'Elegans' today are far removed from the original 'Elegans' and are not identical to each other."
This cultivar has been awarded the Royal Horticultural Society's Award of Garden Merit in the UK.
From the Field Guide to Hostas by Mark Zilis (2014), "...remains the standard to which all other large, blue-green hostas are compared...Over the last 30 years, slight differences between 'Elegans' seedlings resulted in several new introductions with heavily corrugated, blue-green foliage. 'Gray Cole' and 'Ryan's Big One' probably come closest to the original 'Elegans', but they are significantly different from other 'Elegans'-types such as 'Blue Mammoth' and 'Big Daddy'."
The New Encyclopedia of Hostas by Diana Grenfell (2009) states: "Over the years this name has been applied to a variety of H. sieboldiana selections and it is likely that none of the plants in tissue culture under this name is the correct plant, which may now only be found in older collections and is likely to be superior in leaf color and shape...Flowers are bunched at the top of the scape, which rises only just above the foliage mound."
At a recent winter Hosta Scientific Meeting near Chicago, the Hosta Registrar mentioned that of the 300 or so new cultivars registered the previous year, over half of them had H. 'Elegans' in their background. As you can see by the list below, there are a lot of big blue-green hostas out there from which to choose. (Some might say waaaay too many!)
The Hosta Journal, (2006 Vol. 37 No. 2), contained an article in which several hostaphiles were asked to give a brief list of their favorite hosta flowers. This plant was included in that list.
'Elegans' may have been sold at one time under the name Mackwoods No. 2.
Schmid (1991) stated "...The name H. fortunei 'Robusta' was used by Georg Arends in 1905 for the plant that eventually became H. sieboldiana 'Elegans'..."