This sport of H. 'Blue Angel' was registered in 1995 by Rick and Criss Thompson of Virginia. It forms a large size (21 inches high by 75 inches wide) mound of blue-green foliage that has a misty white center which turns green as the summer progresses. Near white flowers bloom from late June into July.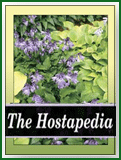 According to The Hostapedia by Mark Zilis (2009), "This still ranks as one of the best sports developed in the last 20 years. Rick Thompson first told me of this plant in 1993, but my first viewing of it left me awestruck. It makes a spectacular specimen in the shaded landscape and will keep its variegation for much of the season if it receives an hour or two of direct sunlight each day."
From the Field Guide to Hostas by Mark Zilis (2014), "...Rick Thompson was very proud of this plant, one of two classic hostas that he developed, with 'Striptease' being the other...Few large hostas have a more spectacular show of variegated foliage in spring than 'Guardian Angel'."
The New Encyclopedia of Hostas by Diana Grenfell (2009) states in its Hosta Hybrids for Connoisseurs chapter: "May need re-siting more than once to obtain the maximum effect from the unusual variegation. Divide frequently...The twisted appearance of the leaf is more apparent in young plants before the leaf has flattened and expanded with maturity. The variegation is not visible on the second flush of leaves."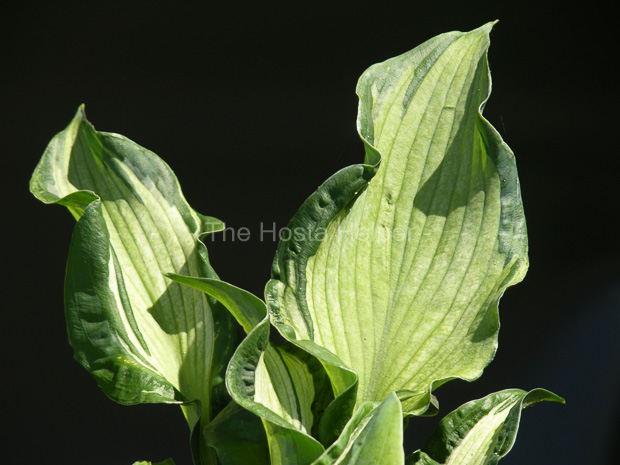 An article by Warren I. Pollock in The Hosta Journal (1996 Vol. 27 No. 2) states that, "H. 'Blue Angel' is one of the best large blue-leaved hostas. The leaves are more pointed and less seersuckered than those of H. 'Elegans' . I happen to think the leaves are a good blue color; there are other big hostas with bluer leaves...it is a faster grower than H. 'Elegans' ...an exciting new sport of 'Blue Angel'. ..H. 'Guardian Angel' is a blue-leaved hosta with an attractive, wide center variegation....Not surprisingly, 'Green Angel' is the green sport."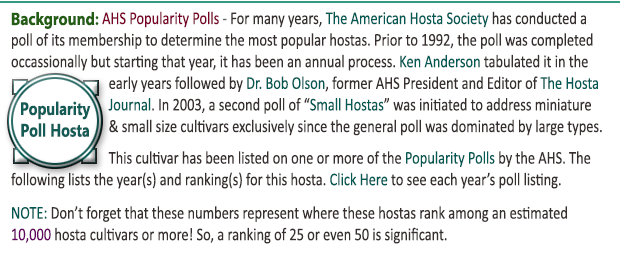 18
14.8

2003 #14
2004 #21
2005 #24
2006 #13
2007 #24
2008 #19
2009 #14
2010 #16
2011 #7
2012 #22
2013 #17
2014 #4
2015 #10
2016 #6
2017 #11
2018 #12
2020 #12
2021 #14