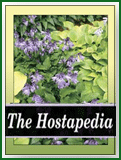 The outstanding large size (20 inches high by 50 inches wide) hosta was registered by Rick and Criss Thompson of Virginia in 1991. It is a sport of the classic, H. 'Gold Standard'.
This fast growing cultivar forms a mound of slightly wavy, smooth textured foliage of average substance. It bears pale lavender flowers from mid-July into August followed by viable seeds.
According to The Hostapedia by Mark Zilis (2009), this cultivar "...has been very popular among landscapers, gardeners, and collectors alike. Its notably thicker foliage and much wider green margin are the main differences from

its mother plant, 'Gold Standard'...displays a narrow band of white between the leaf center and margin...an incredible source of mutations, nearly all through tissue culture."
The New Encyclopedia of Hostas by Diana Grenfell (2009) states: "Careful placement in the garden is essential to achieve the most pleasing seasonal and light-level variations in leaf color. Moderate to fast growth rate...As originally registered, it has only a few silver-white flecks, but later versions can have the flecking nearly all around the blade."
This cultivar has appeared on several of the Popularity Polls by members of The American Hosta Society (see below). It was the 2005 "Hosta of the Year" by the American Hosta Growers Association.

Former President of The American Hosta Society, C.H. Falstad comments on the stability of colors in hosta leaves in The Hosta Journal (2006 Vol. 37 No. 1), "For some reason, cultivars in the Fortunei Group, in particular 'Fortunei Hyacinthina', are much more prone to sporting than most other varieties. These hostas are the source of some of the early-found, popular variegated sports including 'Francee'...and 'Gold Standard'. ..and some more recent finds such as 'Striptease'..."




An article titled H. 'Lapdance' versus H. 'Lap Dance' by Joshua Spece in The Hosta Journal (2008 Vol. 39 No.2) pointed out that Greg Johnson registered a hosta called H. 'Lap Dance' in 2004. It is a miniature seedling of H. 'Happiness' with narrow leaves that grow vertically. The color is blue-green with a lighter blue-green center. A sport of H. 'Striptease' from Steve Karbula has been given the name H. 'Lapdance'. The registered version is the officially accepted name and H. 'Lapdance' would probably have to be renamed before registration.

A Photo Essay article by Steve Chamberlain in The Hostta Journal (2010 Vol. 41 No. 1) makes comments about H. 'Striptease', "Rick and Criss Thompson registered this sport of 'Gold Standard' in 1991. Although the white streak between the leaf center and leaf margin made this cultivar famous, I find it almost too subtle to be a major part of the plant's character as it matures. It is, however, an incredibly vigorous cultivar and, with age, makes a striking large clump."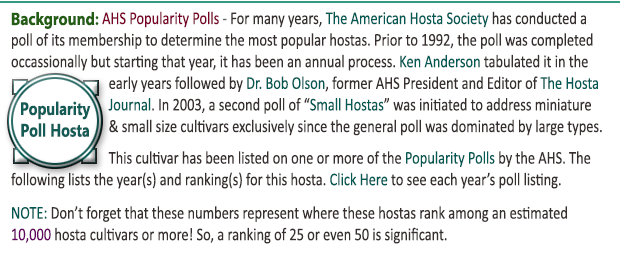 19
11.6

1999 #22
2000 #16
2001 #20
2002 #8
2003 #6
2004 #6
2005 #4
2006 #3
2007 #5
2008 #6
2009 #13
2010 #13
2011 #16
2012 #10
2013 #18
2014 #15
2015 #8
2016 #14
2020 #17