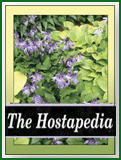 This non-registered cultivar is a sport of H. 'Striptease' from Steve Karbula of Ohio. It grows to a height of 25 inches with a width of 47 inches. The green colored leaves have a white medial (center) variegation. Lavender flowers bloomed in July.
According to The Hostapedia by Mark Zilis (2009), "The name is no longer valid, however, since there is now a registered cultivar with the name 'Lap Dance'." (From Greg Johnson)



From The Hosta Journal, Vol. 39 No. 1 Pg 34 - 2008: "...has a white center, but a very wide one. The narrow green margin is irregular and often streaks into the white. Even with the large amount of white,...is a strong grower."
An article titled H. 'Lapdance' versus H. 'Lap Dance' by Joshua Spece in The Hosta Journal (2008 Vol. 39 No.2) pointed out that Greg Johnson registered a hosta called H. 'Lap Dance' in 2004. It is a miniature seedling of H. 'Happiness' with narrow leaves that grow vertically. The color is blue-green with a lighter blue-green center. A sport of H. 'Striptease' from Steve Karbula has been given the name H. 'Lapdance'. The registered version is the officially accepted name and H. 'Lapdance' would probably have to be renamed before registration."