This H. 'Sieboldiana' selection was originated by Gray & Cole Nursery of Massachusetts and registered by Bob Kuk of Kuk's Forest in Ohio in 1985. It is a giant size (29 inches high) mound that has heavily corrugated foliage with thick substance. In late June, this plant produces near white flowers in dense clusters followed by viable seeds.
The New Encyclopedia of Hostas by Diana Grenfell (2009) states: "Of moderate increase once established...Bloom scape can be branched. Petaloid stamen double flowers are sometimes produced. Slightly larger than its parent."
The Hostapedia by Mark Zilis (2009) states, "This may be the closest plant to the true H. 'Elegans' in existence."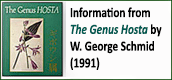 "An outstanding large, selected clone conforming very closely to Hylander's classic Western diagnosis and representing the classic "European" H. 'Sieboldiana'."