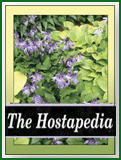 Originated by Georg Ahrends of Germany in the 1930s, this non-registered cultivar is a seedling of H. ventricosa. It forms a large size (22 inches high by 50 inches wide) mound with shiny, dark green, heart shaped foliage. The dark purple, bell-shaped flowers with purple anthers are borne in July. The flower scapes may have faint red on them and bear a single bract about half way up.
According to The Hostapedia by Mark Zilis (2009), "...may no longer exist."


An article by W. George Schmid in The Hosta Journal (1985 Vol. 16) discusses the University of Munich's trial gardens Staudensichtungsgarten Weihenstephan, "...a fine collection of hostas. These are of great importance from a historical standpoint, because many of the cultivars there came from the early German hybridizers, including Georg Ahrends . They include H. sieboldii (syn. H. albomarginata) 'Alba Improved', H. ventricosa 'Superba', H. tardiflora 'Hybrids' and H. 'Elegans'."