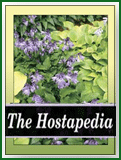 This cultivar was named by Paul Aden of New York and registered on his behalf by Mark Zilis of Illinois in 2010. The originator is considered to be "unknown".
'Bright Lights' is registered as a sport of H. 'Tokudama Aureonebulosa' which grows into a medium size (19 inches high by 52 inches wide) hosta with blue-green foliage that has a medial (center) variegation which starts the season chartreuse and turns golden yellow later. The leaves are moderately wavy, heavily corrugated, broadly ovate and has a glaucous bloom on top. It has a thick substance, is moderately corrugated and has a slight blue bloom on the leaf underside. The near white flowers are borne in clusters from late June into July.

According to The Hostapedia by Mark Zilis (2009), "Some collectors have speculated that 'Bright Lights' is the reversed sport of 'Tokudama Flavocircinalis', but I've never been able to confirm this."
The New Encyclopedia of Hostas by Diana Grenfell (2009) states: "Clone of H. 'Tokudama Aureonebulosa'...Leaves emerge blue slowly assuming the subtle variegation. Very slow to increase."