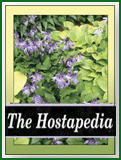 This is a miniature (6 inches high by 14 inches wide) form of the species, H. kikutii caput-avis, which was found in its native habitat in Japan. It is not registered with The American Hosta Society. This plant has lanceolate, wavy, shiny, dark green foliage.

According to The Hostapedia by Mark Zilis (2009), "...appears to have nothing in common with H. kikutii caput-avis or H. kikutii 'Unazuki Dwarf'. Instead it more closely resembles H. pulchella and its seedlings."
The Book of Little Hostas by Kathy and Michael Shadrack (2010) says: "Dark green foliage will look good against light-colored mulch, which will show through the diffuse mound."