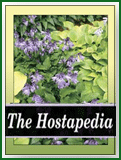 A hybrid of H. 'Wogon', this cultivar was registered by Robert Savory of Savory's Gardens in Minnesota in 1994. It forms a medium size hosta about 11 inches high that spreads around 16 inches in width. The leaves are elliptic shaped, slightly wavy and have thin substance. It bears purple flowers.
According to The Hostapedia by Mark Zilis (2009), "...listed in the 2000 checklist of cultivars (IRA 2000) as being an 'Ōgon Koba' hybrid, but more correctly out of 'Wogon' (aka 'Wogon Gold')...Though somewhat like 'Kabitan', individual leaves are broader and the leaf center does not have as bright a gold color."
Mikiko Lockwood in an article on The Hosta Library titled, A Little About Japanese Hosta Terms defines the term koba as small leaf, 'Koba Gibōshi' or H. sieboldii and the term ogon or oogon as gold or yellow.