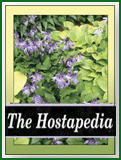 Originated by Russ O'Harra of Iowa, this non-registered cultivar is of unidentified parentage. It is a small size hosta with gold colored foliage.
According to The Hostapedia by Mark Zilis (2009), "...a rarity, held by only a few collectors, I have also seen a white-margined, green centered plant labeled 'Claire de Lune' in one collection."

This cultivar was originally named 'Gold Coast' but was changed when a hosta by the name was registered by Pauline Banyai of Michigan.

Moonlight and there is another cultivar named H. 'Moonlight'