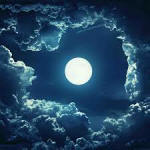 This sport of H. 'Gold Standard' was registered by Pauline Banyaii in 1977. It forms a large size (20 inches high by 50 inches wide) plant with leaf color that change during the season. The foliage is slightly corrugated, generally flat and of average substance. It bears pale lavender flowers from late July into August but does not form seed pods. This is a 'Fortunei' type hosta.

According to The Hostapedia by Mark Zilis (2009), this cultivar "...has all of the positive traits of 'Gold Standard' (rapid growth rate, dense mound habit, season-long interest, etc.) but with a white, instead of green, margin."
The New Encyclopedia of Hostas by Diana Grenfell (2009) states: "A rapid increaser. A classic hosta, one of the first with a yellow leaf center and a white margin but grown less often now."

There is also a cultivar named H. 'Clare de Lune' which translates into Moonlight.