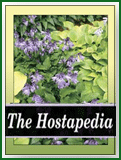 This cultivar was registered with The American Hosta Society in 2000 as a sport of H. 'Loyalist' but it was patented as a sport of H. 'Fire and Ice'. This cultivar is from John and Ken Clifford of Michigan and is part of the "Clifford's Series" of hostas.
According to The Hostapedia by Mark Zilis (2009), "...essentially a thick-substanced, very wide margined version of 'Loyalist'. Unlike 'Clifford's Comet', there are no green speckles in the leaf center."



United States Patent: PP17279 (2006)

Abstract: A new cultivar of Hosta named 'Clifford's Stingray', a sport of Hosta 'Fire and Ice', that is characterized by its unique variegated foliage with narrow, white streaked centers, wide dark green margins and an intermediate streaked area of bright green. 'Clifford's Stingray' has an upright plant habit, a vigorous growth rate, and unique pale lavender flowers that are held in a congested whorl just above the foliage in mid to late summer.