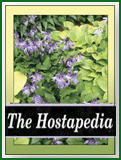 A self-pollinated seedling of H. 'Neat Splash', this cultivar was registered by Dr. Ralph (Herb) and Dorothy Benedict of Michigan in 1990. The plant grows to about 16 inches in height with a spread of 40 inches. The leaves have a smooth texture and average substance. Its medium purple flowers are borne in August and produce reddish colored seed pods.

According to The Hostapedia by Mark Zilis (2009), "Its fast growth rate and colorful character makes it useful as a ground cover or specimen."
The New Encyclopedia of Hostas by Diana Grenfell (2009) states: "A fast growing suitable for covering large areas. Needs dividing every four to five years in garden borders. Rippled leaf blades become less marked as the hosta matures."