Chet Tompkins of Oregon registered this cultivar in 1984 as a cross of two unnamed seedlings but thought to have H. montana in the background. This large size plant has heavily corrugated foliage and near white flowers from mid-July into August. It has pie crusted shaped green foliage that develop a yellow "splotched" pattern later in the summer.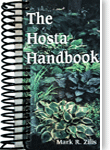 According to The Hosta Handbook by Mark Zilis (2000), "The unusually splotched foliage makes it either one of the most beautiful hostas ever developed or something that induces itching. This characteristic is not caused by a virus, but is a genetic trait that can be passed on to seedlings."
The New Encyclopedia of Hostas by Diana Grenfell (2009) states: "Increases rapidly...The variegation, which is random and unstable, fades during the summer."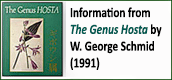 "Plant has unstable variegation and all-green leaves often appear. No two leaves alike, variegation whitish green on bluish green, blotches, patches, streaks, very irregular."

This was named for Chet's mother, Cynthia, who was one of the early pioneers in the world of hostas in the U.S.