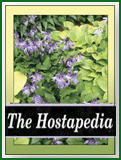 Originated by Roger and Ann Bowden of Devon, England , this non-registered cultivar is of H. montana macrophylla heritage. It was registered on their behalf by Peter Ruh of Ohio in 2010. This is a giant, semi-upright mound that grows to a height of 33 inches with a spread of 55 inches. The leaves are ovate shaped and have deeply impressed veins with a slight ripple to the margins. In July, it bears very pale lavender flowers.
According to The Hostapedia by Mark Zilis (2009), "...included in the group of H. montana macrophylla type cultivars that make great centerpiece plants for the shaded landscape."
Similar cultivars include H. 'King Michael'.