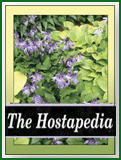 This very large, upright-vase shaped plant was formerly known as H. montana 'Praeflorens'. It makes a striking display in the shade garden and has its distinctive flowers which form just above the foliage like others in the H. montana species. W. George Schmid (1991) changed the name to H. montana forma macrophylla.
A giant size (35 inches high by 75 inches wide) plant with a vase shaped form, this cultivar has foliage with deeply impressed veins, deeply lobed base and are slightly wavy with a long, thin tip. The leaves have thick substance which helps them be resistant to slug damage. It has the typical flowers for its species which look unique in bud and open as very pale lavender flowers from late June into July.
According to The Hostapedia by Mark Zilis (2009), "Of all the green-leaved H. montana forms,...macrophylla is most distinctive. The arching, spreading mound...can both physically and mentally dominate a shade garden."


"It is a wonderful heart-stopper when grown to maturity, reminding me of a waterfall. The leaves are glossy green with strong veining, and have an outstandingly graceful quality of neatly and consistently spilling over one another, giving it the appearance that an arranger spent days gluing the leaves in place, making it 'just right'. This large plant is an absolute must for all but the tiniest of gardens..."

"This one stands out in the garden with its large, unique leaves with many deeply impressed veins. When mature, it makes a huge mound that is an attention getter in every garden. It can be bought for $12.00 to $15.00 and grows fast. This may just be a large green one, but its green is nice, uniform, dark olive green seldom seen. The flower stems have uniquely rolling, persistent bracts and the flowers are nice, white funnels. A colony seen of these at a forest margin near Sakuma in Shizucka Prefecture is unforgettable. In the garden it also makes an extraordinary accent or several can be used in place of shrubs and hedges."