This gold leaf hybrid of H. 'Fortunei Aurea' × H. 'Elegans' is a non-registered cultivar from Eric Smith of England.
According to The Hostapedia by Mark Zilis (2009), "...may no longer exist."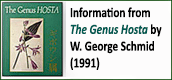 "Plant is a yellow-leaved cultivar of Eric Smith's Gold Leaf series which is no longer in the UK National Refernece Collection but may exist in some gardens."