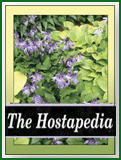 In 1998, Dr. Ed Elslager of Michigan registered this sport of H. 'Electra' which forms a large size, 20 inch high mound that spreads about 4 feet wide. The leaves are slightly puckered and slightly corrugated when the plant is mature. Medium lavender, funnel shaped flowers bloom in late July. This is an H. 'Fortunei' type of hosta.
According to The Hostapedia by Mark Zilis (2009), "...a yellow-margined version of 'Fortunei Hyacinthina' and is identical to it in flower and most foliage characteristics."
Similar cultivars include H. 'Wayne'.