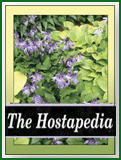 A hybrid of H. 'Tardiflora' × H. rupifraga from Dr. Ralph (Herb) Benedict of Michigan, this cultivar was registered on his behalf by Kevin Walek (Hosta Registrar) in 2009. The medium size hosta is 13 inches high and spreads to a width of 29 inches. Its dark green foliage is shiny, ovate and has red petioles. It bears flowers in September in Michigan.
According to The Hostapedia by Mark Zilis (2009), "..."Ewa" stands for "Iwa", the common name for H. longipes in Japan. The plant itself shows a strong affinity to H. longipes and makes an attractive, low mound of foliage."
Mikiko Lockwood in an article on The Hosta Library titled, A Little About Japanese Hosta Terms defines the term iwa as rock, Iwa Gibōshi or H. longipes.