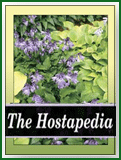 Eunice V. Fisher of Wisconsin introduced this cultivar in 1973. It is a large size hosta with medium green leaves and white, funnel shaped flowers. It is a seedling of Hosta sieboldiana aurea-marginata according to The Hostapedia by Mark Zilis (2009).
This large size (25 inches high) mound of slightly wavy foliage has deep lobes at the leaf base and an abrupt tip at the end. It has thick substance and bears near white flowers from late June into July.
The Hostapedia by Mark Zilis (2009) says, "Despite being known to hosta collectors for many years, 'Fond Hope' has never achieved much popularity. It is similar to many other blue-green H. 'Sieboldiana' types..."