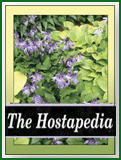 This is one of many sports of H. 'Fortunei Albomarginata' and it was registered by The American Hosta Society on behalf of the originator, Alex Summers of Delaware in 1986. It forms a large size (21 inches high) mound of slightly corrugated foliage. Pale lavender flowers are produced during mid-July to August.
According to The Hostapedia by Mark Zilis (2009), "From my written description, 'North Hills' does not seem to differ much from 'Fortunei Albomarginata'...compared side-by-side, however, they appear distinctly different."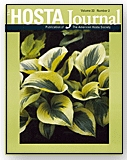 An article about H. 'North Hills' by Warren I. Pollock in The Hosta Journal (1985 Vol. 16) states that, "Named by Alex Summers for the Village of North Hills on Long Island, N.Y. where he formerly lived. The hosta was growing in large masses in the garden of Mrs. Meissner, Garden City, Long Island...Where Mrs. Meissner obtained it is not known."