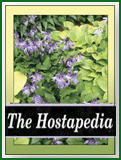 This cultivar with an H. 'Sieboldiana' background was originated by Andre Viette of Virginia and registered on his behalf by Kevin Walek (Hosta Registrar) in 2009. The foliage has yellow blotches on it in the spring but turns all green as the summer progresses. The leaves are deeply lobed at the base, have slightly wavy margins and have good substance. Blooms of near white flowers appear from mid-June into July.
According to The Hostapedia by Mark Zilis (2009), "In spring 'Freckles' gives the appearance of being a virus-infected plant, but by midsummer, there is no evidence of the yellowish spots. It also produces an impressive show of whitish flowers in early summer."
Similar cultivars include H. 'Doctor Reath', H. 'Green Spot' and H. 'Wolcott'.