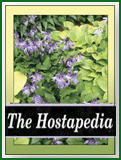 A cross of H. 'Blue Dimples' × H. 'Silver Frost', this cultivar was registered by Don Dean of Minnesota in 1999. The plant grows to about 12 inches in height and a width of 32 inches. It has broadly ovate, wavy and moderately corrugated leaves. In late July, it bears very pale lavender blooms.
According to The Hostapedia by Mark Zilis (2009), "This tremendous cultivar could easily be mistaken for a gold-edged sport of 'Blue Dimples'. With age its corrugation intensifies and the leaf blade broadens."
Similar cultivars include H. 'First Frost'.