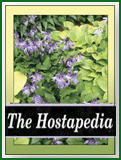 This non-registered cultivar is a sport of H. kikutii caput-avis from Japan. This is a green hosta with white marginal variegation. The lavender flowers are borne from mid-August into September on long drooping scapes.
According to The Hostapedia by Mark Zilis (2009), "...formerly listed as H. kikutii caput-avis 'Fuiri'."
Mikiko Lockwood in an article on The Hosta Library titled, A Little About Japanese Hosta Terms defines the term fuiri as variegated.