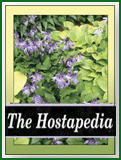 In 1999, Peter Cross of Missouri registered this cultivar which was originated by Mark Zilis of Illinois. It is a hybrid of H. kikutii × H. hypoleuca which large size mound of bright green foliage. The narrowly ovate leaves have a rounded base and are twisted at the tips. Pale lavender flowers bloom in August.
According to The Hostapedia by Mark Zilis (2009), "In the garden, it makes a very unusual mound of foliage that "flows", owing to its H. hypoleuca background."
Seedlings include H. 'Orinoco Flow', H. 'Piper Cub' and H. 'Solo Flight'.