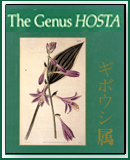 This is a naturally occurring sport of the species, H. montana, found in the wild in Japan. It was discovered by Yoshifumi Watanabe.
According to The Genus HOSTA by W. George Schmid (1991), the name is H. 'Gohonmatsu Fukurin' which means the yellow-margined hosta from Gohon Matsu. It has upright, green leaves with a wide, dark yellow marginal variegation. It has open funnel shaped, very pale lavender flowers in July with bracts on the flower scape after the flower opens.
Mikiko Lockwood in an article on The Hosta Library titled, A Little About Japanese Hosta Terms defines the term fukurin as margined or edged.