Dr. Kevin Vaughn of Massachusetts originated this seedling of H. 'Sum and Substance' × an unnamed hosta and it was registered on his behalf by Kevin Walek (Hosta Registrar) in 2009. 'Golden Memories' becomes a large size plant (21 inches high by 42 inches wide) with bright gold foliage. The leaves are broadly ovate to nearly round,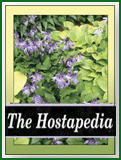 heavily corrugated and have thick substance. It bears near white flowers in July and sets viable seeds in yellow colored pods.
According to The Hostapedia by Mark Zilis (2009), "As a seedling of 'Sum and Substance' from Kevin Vaughn, no one should question the value of this plant. 'Golden Memories' matures as an attractive mound of rich, gold foliage, making it an ideal specimen plant for the shaded garden."