This upright growing hybrid of H. 'Little Aurora' × H. 'Ginko Craig' was registered by W. George Schmid in 1989. It forms a small size (6 to 8 inches high by 15 inches wide) mound of narrow, gold yellow foliage. Pale purple flowers bloom in July.
The Book of Little Hostas by Kathy and Michael Shadrack (2010) says: "Too much sun will quickly turn this plant pale green. Ideal for the raised bed, container, and deck box."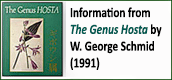 "Plant has yellow leaves like the juvenile leaves of H. 'Ginko Craig. Good substance and lasting color."