Registered by W. George Schmid of Georgia in 2009, this cultivar is a hybrid of H. 'Golden Prayers' × H. pulchella. The foliage on this small size (6 inches high by 12 inches wide) hosta is greenish yellow, ovate and dull on top. Flowers bloom from mid-July into August on 12 inch tall scapes.
According to the registration materials: "...Starts out with golden yellow that turn to greenish yellow by bloom time..."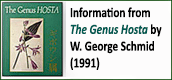 "Plant has flat yellow-to-chartreuse leaves and makes an excellent edger, about one-fourth the size of H. 'Gold Edger'. Good substance and lasting color."