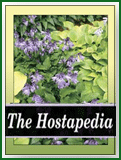 This cultivar is a hybrid of H. 'Aden No. 381' (='Gold Cadet') x H. 'Golden Waffles' which was registered by Paul Aden of New York in 1976. It is a medium to large size plant with foliage that is very broadly ovate with thick substance. The near white flowers bloom from late June into July.

According to The Hostapedia by Mark Zilis (2009), "...the plant sold as 'Golden Prayers' since the early 1980s is actually 'Little Aurora'. A few seedlings and most, if not all, of the sports attributed to 'Golden Prayers' are actually sports of 'Little Aurora'. These include 'Delia', 'Goldbrook Grace', 'Lakeside Leprechaun', and 'Tucker Irish Heart'. The true form of 'Golden Prayers' becomes a much larger plant than 'Little Aurora'...Perhaps the only way to be sure that you have the true form of 'Golden Prayers' is to purchase Van Wade's 'American Prayers'."
The New Encyclopedia of Hostas by Diana Grenfell (2009) states: "Site in shade all day to prevent scorching of the leaf edge. Slow to moderate growth rate."

An article in The Hosta Journal (1994 Vol. 25 No. 2) states that H. 'Golden Prayers' and H. 'Little Aurora' are the same plant.