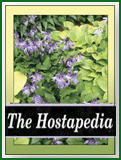 Van Wade of Wade and Gatton Nursery (Closed 2019) of Ohio introduced this selection of H. 'Golden Prayers' but it is not registered. A medium size plant, it has heavily corrugated leaves. Starting in late June, it produces near very pale lavender to near white flowers.
According to The Hostapedia by Mark Zilis (2009), "...represents the true form of 'Golden Prayers' i.e., a golden 'Tokudama' type, not the mass-produced plant that is the same as 'Little Aurora'."
Similar cultivars include H. 'Golden Medallion' and H. 'Golden Prayers'.