This is one of those cases where there are two hostas with the same name. One is registered and, therefore, the "official" version of H. 'Green Power' while the other is a non-registered plant and needs to be renamed to avoid further confusion.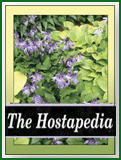 Ron Snyder of Minnesota registered this sport of H. 'Paradise Power' in 2003. The medium size grows to around 16 inches in height with a spread of about 32 inches. Its foliage is dark green, heavily rippled, deeply veined, moderately wavy and very shiny on top. Pale lavender, tubular flowers bloom from mid-July into August in Minnesota. It sets seeds but their viability was undetermined at the time of registration.
According to The Hostapedia by Mark Zilis (2009), "...akin to a green-leaved version of 'Sun Power'."