This non-registered cultivar was introduced by Klehm Nursery but was subsequently withdrawn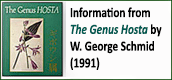 for the market. However, Schmid (1991) says, "...there are many examples of this choice cultivar in gardens, which now should be renamed H. 'Green Wedge Klehm'."
This plant is a large size hosta about 22 inches high by 40 inches wide with very light green foliage. The cordate, flat leaves are pruinose above and whitish below. It bears white, bell-shaped flowers on 22 inch tall scapes in July followed by viable seeds.