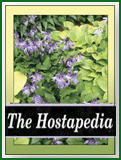 Originated in Japan, this non-registered cultivar is a smaller form of H. sieboldii spathulata. It is a small size hosta, about 9 inches high mound which spreads to around 22 inches in width. This cultivar produces medium purple flowers in early August.

According to The Hostapedia by Mark Zilis (2009), "...I've never seen any plant labeled that..."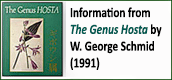 "Hime Koba Gibōshi is a synonym for and applied to several clones of the dwarf group of H. sieboldii f. spathulata."

Mikiko Lockwood in an article on The Hosta Library titled, A Little About Japanese Hosta Terms defines the term hime as small, mini, dwarf or princess and the term koba as small leaf, 'Koba Gibōshi' or H. sieboldii.