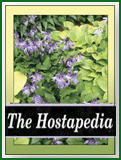 Originating from Dr. Shuichi Hirao of Japan, this non-registered cultivar is of unidentified parentage. It is a small size hosta with green foliage and a white marginal variegation.

According to The Hostapedia by Mark Zilis (2009), "This is probably the same as 'Hime Karafuto' or 'Princess of Karafuto'."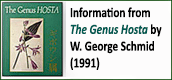 "Hime Giboshi, the "small hosta," is similar to H. sieboldii but smaller, and its margin is pure white and lasting. It is similar to the mature form of H. 'Ginko Craig' and also to H. 'Herifu'. The Japanese name has been applied to several taxa and may be confusing."
Mikiko Lockwood in an article on The Hosta Library titled, A Little About Japanese Hosta Terms defines the term hime as small, mini, dwarf or princess.

This refers to a plant associated with Marge Soules of Indiana.