A sport of H. 'Fortunei', this cultivar was registered by the British Hosta & Hemerocallis Society in 1988. It grows into a large size hosta about 18 inches high with a spread to a width of 42 inches. Pale lavender flowers bloom in July.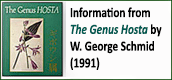 Schmid (1991) lists "Lavender" as the originator. Since the BHHS registered the plant we will assume that Mr. or Ms. Lavender is from England.

Iona is a small island in the Inner Hebrides off the Ross of Mull on the western coast of Scotland.