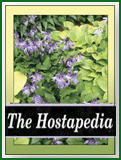 This cultivar is sometimes labeled as H. koreana 'Minor' but, according to The Hostapedia by Mark Zilis (2009), "There is no species Hosta koreana..."
H. minor 'Korean' is a selection of the species H. minor, of course. It forms a low mound of green foliage with purple flowers in July.
Zilis comments, "Plants grown under this name usually reflect the true form of Hosta minor, which is native to Korea."