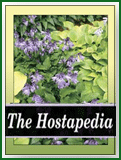 The Hostapedia by Mark Zilis (2009) says that this native of Korea forms a small size (8˝ inches high by 22 inches wide) mound of medium green foliage. The leaves are ovate-shaped and smooth textured with the underside shiny and whitish. It has purple flowers in early to mid-July followed by viable seeds. It has ridged flower scapes.
Zilis states, "...true form is hard to find in nurseries, though many mislabeled plants (usually green-leaved Hosta sieboldii seedlings) are sold...Plants listed as Hosta minor "Korean" or H. minor "Gosan" usually represent the true form of this plant. Its ridged scapes are the key diagnostic trait."

The New Encyclopedia of Hostas by Diana Grenfell (2009) states: "Very variable in the wild and often wrongly named in cultivation. Ideal for rock and sink gardens and other containers but will also thrive at the front of the border...Ridged, hollow scapes. Faint purple dotting at the scape base. Reblooming flowers."
W. George Schmid in his Hosta Species Update on The Hosta Library (2006) says, "This taxon is to some degree variable in the wild and has white-flowered forms appearing from time to time in wild populations. It is characterized by lamellar ridges on the scape, a definite identifier for section Lamellatae. H. minor is one of the more stable Hosta species populations in Korea.....Some plants purported to be the species H. minor came to North America in the 1960s. For this reason it is somewhat "misunderstood" by horticulturists and gardeners. The plants first introduced were rather smaller than the average plant size in natural population. Even good horticultural practices did not result in producing an average leaf size same as that observed in the wild. One reason is that H. nakaiana was sometimes sold as H. minor during the early days. Even today (2010) it is still sometimes confused with H. nakaiana or H. capitata. Both of these have a ball-shaped raceme when in bud, with all flowers concentrated on top an abbreviated raceme so can be differentiated by their flower morphology."