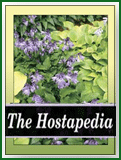 The Hostapedia by Mark Zilis (2009) says that this native of Korea forms a small size (8˝ inches high by 22 inches wide) mound of medium green foliage. The leaves are ovate-shaped and smooth textured with the underside shiny and whitish. It has purple flowers in early to mid-July followed by viable seeds. It has ridged flower scapes.
Zilis states, "...true form is hard to find in nurseries, though many mislabeled plants (usually green-leaved Hosta sieboldii seedlings) are sold...Plants listed as Hosta minor "Korean" or H. minor "Gosan" usually represent the true form of this plant. Its ridged scapes are the key diagnostic trait."

The New Encyclopedia of Hostas by Diana Grenfell (2009) states: "Very variable in the wild and often wrongly named in cultivation. Ideal for rock and sink gardens and other containers but will also thrive at the front of the border...Ridged, hollow scapes. Faint purple dotting at the scape base. Reblooming flowers."