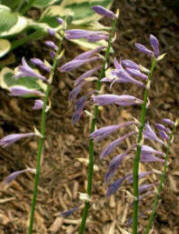 This cultivar of a self-pollinated "Chastain Seedling 10" from Mary Chastain of Lakeside Acres Nursery in Tennessee was registered in 1998. It forms a medium size (17 inches high) mound of heavily rippled, dark green foliage. Medium purple flowers bloom in July.
According to The Hostapedia by Mark Zilis (2009), "In both foliage and flower it shows the strong influence of H. ventricosa in its background, though the flowers are not as bell-shaped as H. ventricosa."

An article by Warren Pollock in The Hosta Journal (1999 Vol. 30 No. 2) states that "Perhaps the darkest-leaved hosta I have ever seen is Mary Chastain's H. 'Lakeside Coal Miner'. She showed a leaf at the 1998 National Convention of The American Hosta Society Cut-Leaf Show and registered it later in the year."