A hybrid of two unnamed seedlings, this hosta was registered in 2006 by Mary Chastain of Lakeside Acres Nursery in Tennessee. It grows to about 10 inches in height and 23 inches in width with leaves that are broadly ovate and rippled. The pale purple flowers bloom in early July.

From the Field Guide to Hostas by Mark Zilis (2014), "I have heard many a collector sing the praises of 'Lakeside Paisley Print'. I do not know if it is the beautiful variegation or the neatly rippled margin - most likely a combination of the two - that gets everybody talking. It is Mary Chastain's last major introduction."
The New Encyclopedia of Hostas by Diana Grenfell (2009) states in its Hosta Hybrids for Connoisseurs chapter: "Divide frequently to retain the striking and unusual central variegation. Still very expensive and hard to obtain...The flaring streaks of cream rising from the base of the leaf surrounded by a darkish green background."
'Lakeside Paisley Print' was named the 2019 Hosta of the Year by the American Hosta Growers Association.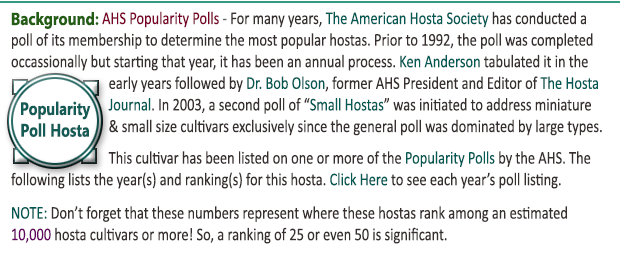 7
8.1

2015 #22
2016 #13
2017 #9
2018 #5
2019 #3
2020 #3
2021 #2