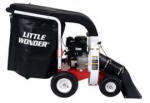 This seedling of H. 'Neat Splash' was registered by Wm and Eleanor Lachman of Massachusetts in 1989. A small plant, it grows to about 9 inches high with a spread of 28 inches. The leaves are moderately wavy, smooth textured and have average substance. It bears funnel shaped, deep purple flowers from mid-July into August but is sterile so does not set seeds.
The Book of Little Hostas by Kathy and Michael Shadrack (2010) says: "Grows well in good light. The regular shape makes it ideal for containers and troughs when small and for raised beds and shady gardens when mature."
The New Encyclopedia of Hostas by Diana Grenfell (2009) states: "A superb rock garden, edging, or ground cover hosta. Probably too vigorous to grow with other small and miniature hostas in a container."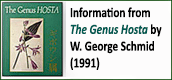 "Plant occasionally develops streaky variegation."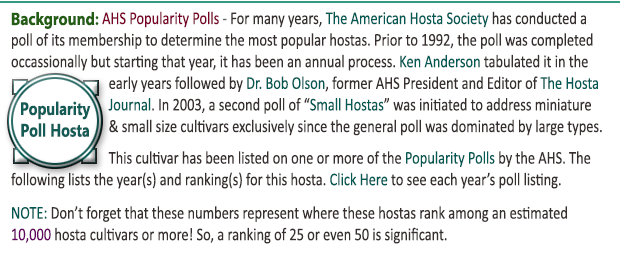 2
9.5