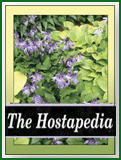 A non-registered cultivar from Kirk Brill of Iowa, this hosta is a sport of H. 'Sea Monster'. This is a large size plant that reaches 24 inches in height and 50 inches in width. It has heavily corrugated, wavy foliage of thick substance. The near white flowers bloom in late June.
According to The Hostapedia by Mark Zilis (2009), "Under average garden conditions, it has a very slow growth rate..."
Similar cultivars include H. 'Handy Hatfield' and H. 'Laura and Darrell'.