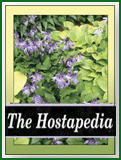 This seedling of H. sieboldii was registered in 1986 by Connie Williams on behalf of her mother, Frances Williams of Massachusetts. It grows into a medium size hosta about 11 inches in height by a width of 31 inches. The light green leaves have a narrow white marginal variegation and have smooth texture, thin substance with no waves. Pure white flowers bloom in August.
According to The Hostapedia by Mark Zilis (2009), "...has always been a favorite of mine. It makes a great edging plant and offers an attractive combination of white-margined leaves and pure white flowers."
This plant may have been sold in the past as Mackwoods No. 21.

This was name for Frances Williams' daughter, Louisa Williams Valley.