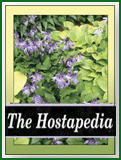 This open-pollinated seedling forms a large, semi upright clump that reaches 20 inches in height and 46 inches in width. It was originated by Russ O'Harra of Iowa registered by the Russ O'Harra Hosta Society in 1999. The foliage is broadly ovate, moderately corrugated and has good substance. Pale lavender flowers bloom in July.
According to The Hostapedia by Mark Zilis (2009), "...another of Russ O'Harra's fine, 'Elatior' type cultivars. Another, lesser-known hosta exists with the name 'Ming Dynasty'."
Similar cultivars include H. 'Dark Tower'.